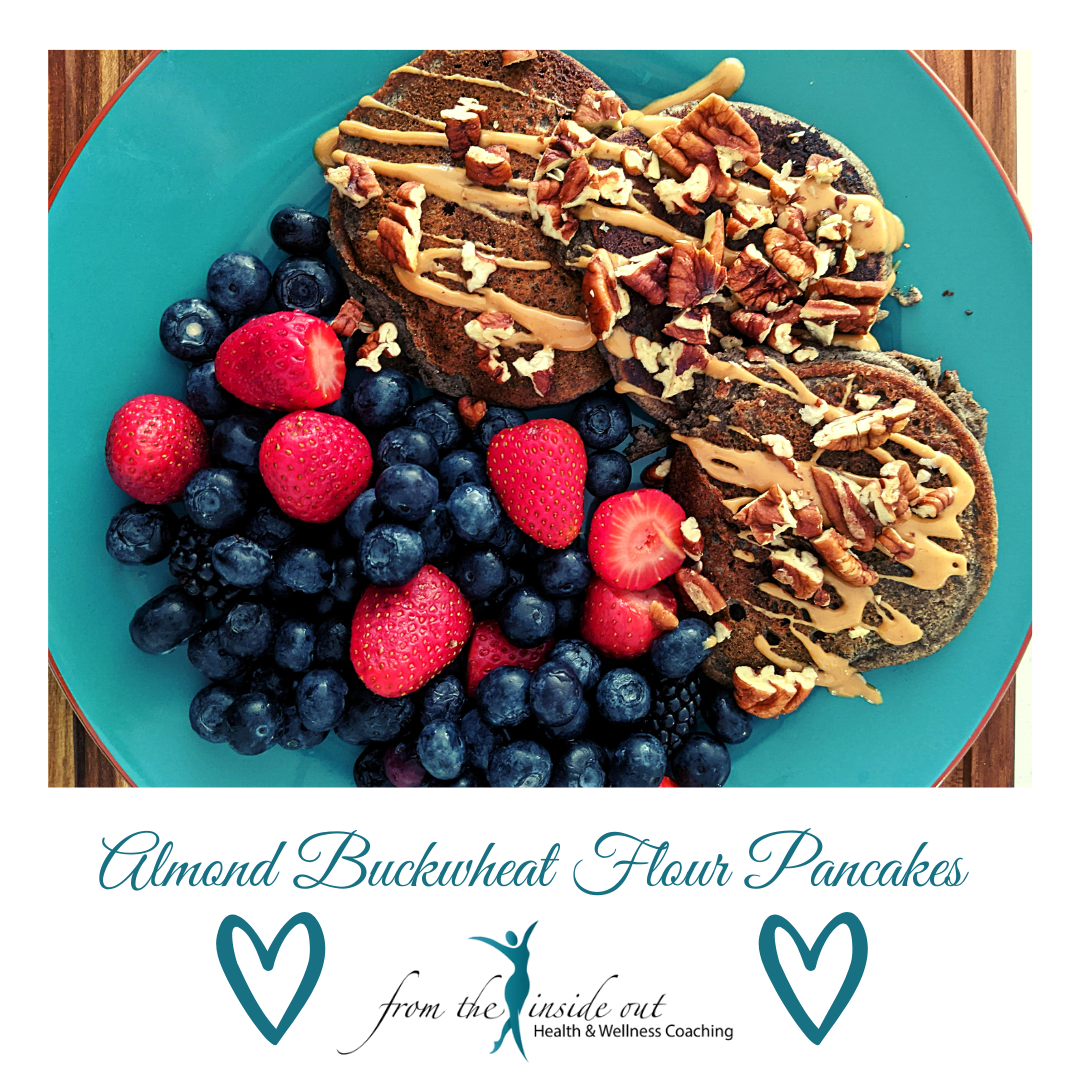 Almond Buckwheat Flour Vegan Pancakes
Sunday is the one day of the week that I will have something other than fruit for breakfast…and after many trials of almond flour/buckwheat pancakes I finally got the recipe just right, resulting in a fluffy, really delicious nutty tasting pancake. These are vegan, gluten free, dairy free, and sugar free…but they are certainly not taste free lol! I hear you skeptics out there =) Almond flour has a good amount of fiber (7 grams per half cup), lots of healthy fat (28 grams) and a substantial amount of protein (12 grams) and does not affect glycemic index the way all purpose flour does-so it is a GREAT flour alternative for people who are gluten free or those wanting to make healthier swaps.  These pancakes are very nutrient dense and easy to make, so I hope you will give them a try!
Recipe (makes about 15 small-medium sized pancakes):
-2 ripe bananas
-2 cups milk of choice (I used oat milk)
-1 tsp vanilla extract
-3 tsp baking powder
-3/4 tsp salt
-1 tsp cinnamon
-1 cup almond flour
-1 cup gf all purpose flour (or replace with more almond flour)
-1 1/2 cups buckwheat flour
-1/4 cup melted coconut oil (measure it while solid, then melt)
Heat a cast iron skillet over med-high heat, until very hot with some coconut oil, ghee or grass fed butter.
1. Add bananas, milk and vanilla to a blender, blend until smooth
2. Add baking powder, salt and cinnamon and blend until combined.
3. Add the flours and blend until incorporated.
4. Add the melted, cooled coconut oil to the blender and blend until combined.
5. Use a 1/4 cup to scoop batter out of the blender and into the skillet, cook until brown on each side.
6. Drizzle with nut butter, date syrup and chopped pecans and serve with a big serving of berries.
Meal Prep tip: Double the recipe, cool the uneaten pancakes and freeze them by wrapping batches separated by parchment paper. Wrap each batch in aluminum foil and then store in containers or baggies. They heat up great in the micro or in a warm skillet.
#fromtheinsideout #breakfast #vegan #dairyfree #glutenfree #norefinedsugar #healthcoach #healthcoachtips #healthcoachlife #eattherainbow #eatrealfood #healthyeating #naturalhealth #wellness #healthyfood #healthylifestyle