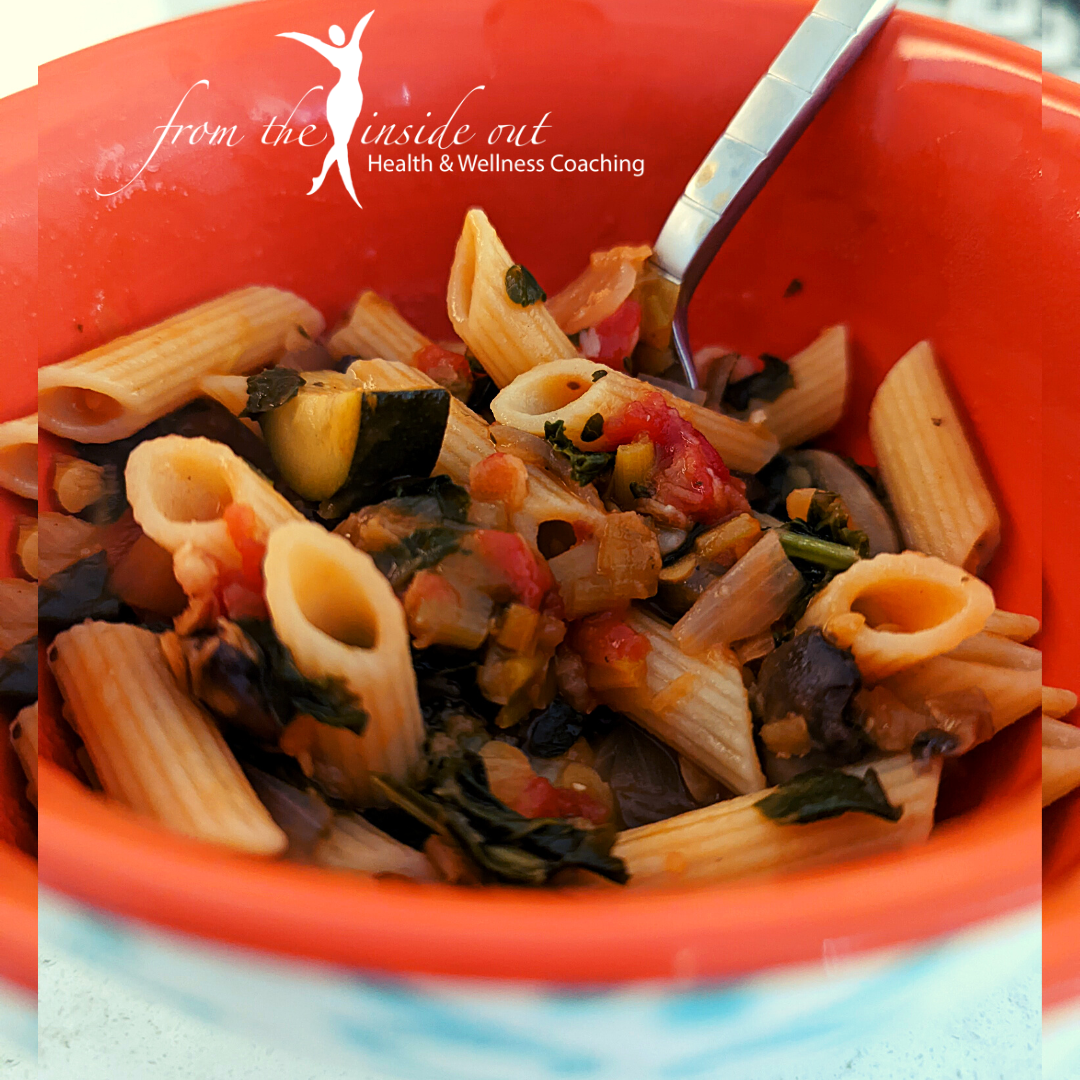 One Pot Pasta with Red Lentils and Veggies
Another delicious way to incorporate lentils into your diet is this one pot pasta dish. The lentils end up breaking down and mixing with the tomatoes and broth to create a thick sauce. To up the protein count I used chickpea pasta…and included lots of veggies such as leeks, mushrooms, zucchini, spinach and kale for nutrient density. This super EASY one-pot dish is filling, nutritious and packed with fiber and protein to keep you feeling full and satisfied!
For this dish you will need:
1 tbsp olive or avocado oil
1 leek (light green and white part only, rinsed well and chopped) or you can sub an onion
1/2 pkg of chopped baby bella mushrooms
1 zucchini (washed and diced)
generous handfuls of baby spinach and kale (remove center rib, wash and chop) or any leafy green you have on hand
1 can diced tomatoes (or can sub a few fresh tomatoes- small dice)
1 cup veggie or chicken broth (or you can sub water if you don't have)
2 cups water
approx. 3 cups of dried pasta of choice
2 tsp of fresh or 1 tsp dried thyme, salt and pepper to taste
pinch red pepper flakes (more if you like heat)
1/2 cup red lentils (rinsed and picked through)
In a pot sauté the leeks and mushrooms in olive or avocado oil until they begin to sweat. Add in the zucchini and season with a pinch of salt and pepper and cook for another few minutes. Then add in the red pepper flakes, thyme and leafy greens and cook until just wilted. Add in the diced tomatoes, veggie broth, water, pasta, and red lentils. Season with salt and pepper (taste the liquid and adjust any seasonings- it should be flavorful, but the flavors will increase as it cooks together). Bring to a boil and then cover, lowering the heat until you have a steady simmer. Cook for about 12-16 minutes, stirring a few times so the lentils do not stick to the bottom of the pot. Taste during the cooking process and add any additional salt, pepper, thyme, and pepper flakes if it needs it. Cook until the lentils have broken down and thickened the sauce and most of the liquid is absorbed (you should be left with a thick sauce that sticks to your pasta). Let the pasta rest for at least 5 minutes before serving it. Serve as is or with extra pepper flakes or grated cheese. Enjoy!
#fromtheinsideout #healthcoach #fromtheinsideouthealthcoach #healthcoachtips #healthcoachlife #eattherainbow #eatrealfood #nutrientdense #healthyswaps #healthyeating #naturalhealth #wellness #healthyfood #lentils #protein #vegan #dairyfree #glutenfree #nutritarian #eatmoreveggies #vitaminsandminerals #healthylifestyle #change #nutrition #healthyfoodthatsdelicious #healthiswealth